Swimming with the whale shark has become a busy activity on the coast of Mexico. Los Cabos and Cancun are the favourite destinations for visitors to swim with these majestic fish.
There are many providers that offer swimming with the whale shark, both in Cancun and throughout the Riviera Maya, as well as in Isla Mujeres and Holbox. Although all providers offer basically the same, there are significant differences that could make this experience the most incredible or the worst of the holidays.
Before deciding who will be your supplier to swim with the whale shark, it would be good to know more about these fish, so here are the most important points:
The whale shark
It is the largest fish in the world. It can measure up to 12 meters (472 in) in length and weigh up to 20 tons.
It inhabits warm tropical and subtropical waters, mainly to the northeast of the Yucatan Peninsula (north of Quintana Roo) in Mexico.
It feeds on plankton, macroalgae, crustaceans (crab larvae, squid and krill) and small fish such as sardines, tuna and mackerel.
They are ovoviviparous. They are born of an egg that remains inside the mother's womb.
They are harmless to humans. They are affectionate and playful.
The whale shark inhabits the warm oceans, so it is common to find them in the Mexican coasts of Quintana Roo and Yucatan, as well as in the peninsula of Baja California. It is found on some coasts of Australia, Honduras and Philippines, as well as in some coasts of Venezuela, Tanzania and in Las Perlas archipelago in Panama.
¡OFERTAS de ultima hora de Hoteles y Alojamientos en Cancún!
The first identified whale shark was 4.6 meters long and was captured with a harpoon off the coast of Table Bay, South Africa, in 1828.
Among its physical characteristics are its spiracles, orifices with which it breathes, characteristic of sharks and whales, which gives rise to its name. The skin of the whale shark is covered with lines and moles in unique and unrepeatable patterns, so there will never be two identical specimens.
If you are lucky enough to swim with whale sharks in Cancun, you will surely notice that the tail is not the same at all. This is because only the tails of adults take the shape of a half moon.
They are also a threatened species, so in Quintana Roo there is a sanctuary of whale sharks that goes from the area of Holbox Island (part of the Protection Area of Flora and Fauna, Yum Balam) to Isla Contoy. In that strip of sea, whale sharks arrive between May and September, although legally the tourist activities start on June 1st and end on September 15th. There are a limited number of visitors per day because it is a protected natural area, so it is advisable to book in advance to get a place and possibly better prices.
Maybe you are interested: The best whale shark swimming tour in Cancun and Riviera Maya
How does the whale shark feed?
Despite being solitary creatures, they are sometimes seen feeding in large groups of up to 20 whale sharks.
Their way of feeding is a water filtration process that works like this:
1. The whale shark is placed vertically and goes up and down with its mouth open, which allows the plankton to enter with lots of water.
2. The whale shark expels water through a filter in its gills where food is trapped.
3. Food residues that are trapped in the gills are expelled by a kind of cough or sneeze with which the whale shark cleans its filtration system.
This filtration mechanism prevents the passage of any fluid between the gills and everything that measures more than 2 or 3 millimetres in diameter is trapped to be immediately engulfed.
Preservation of the whale shark in Quintana Roo
The conservation of the whale shark in Mexico is in charge of the National Commission of Natural Protected Areas (CONANP, for its acronym in Spanish). This Commission, dependent on the Mexican government, analyzes the habitat and ecology of the whale shark to elaborate strategies that allow its conservation and sustainable use in the coasts of Quintana Roo.
There is a Program for the Conservation of Species at Risk in which more than 530 tourism service providers are trained, with the aim of keeping the tourism activity under control without increasing the risks for the whale shark.
In addition, since 2000, August the 30th was established as the International Whale Shark Day, in order to promote knowledge and conservation of this species.
Swimming with the whale shark in Cancun
It is an indescribable experience. The season for whale shark in Cancun is from May to September each every year. The best reference for this activity is the people who have enjoyed swimming with them because they take pleasure in the purity of human contact with one of the largest and most impressive living beings on the planet.
If you have already decided to enjoy this activity, I recommend taking into account the following 3 things you should take into account to get the most out of your whale shark tour in Cancun:
Personalized attention. With so many companies struggling to get customers, many of them just focus on sales leaving behind the importance of service. It is not the same to go on a tour with 500 people as one with only 10. Although everyone comes to Holbox or Isla Contoy, the experience could have huge differences between one provider and another. Small groups, food service (including breakfast), land and sea transportation that is comfortable, fast and reliable, as well as snorkelling equipment and guides that are local, will make your experience with the whale shark something you will always remember with joy.
The location of your hotel. If the most important thing in your vacation in Cancún or Riviera Maya is to swim with the whale shark, you must pay close attention to the place of your lodging. The most recommended is that your hotel is in Cancun or Isla Mujeres because of the quantity and quality of services offered by both destinations. Unfortunately, Riviera Maya hotels are far from the highway, so the price of your tour can be raised considerably just by transportation. In addition, the transfer time is increased because the boats that will take you, depart from Cancun or Isla Mujeres. It is obvious that you will also have to wake up much earlier since most tours start between 7:00 am and 8:00 am. Staying in Holbox may be a good choice, as it is the closest point to whale sharks, but lately, the island has been saturated with visitors, causing the scarcity of basic services such as water, garbage collection and electricity.
Guarantees. Acquiring a whale shark swim tour is easy, but it has a very different logic with respect to other water activities. As it is a seasoned activity jealously regulated and monitored by the environmental authority, it has to meet several requirements. In order for suppliers to sell this tour, they had to work hard for a long time to process legal permits, adapting their boats, training and updating guides, buying new equipment (fins, tubes, vests, visors and masks), calculating costs and thinking about how to compete with each other for you to buy them. As this work is a lot and depends largely on what the port authority and the environmental authority decide, many suppliers do not finish meeting the requirements and problems arise. You do not want to and you should not carry those problems. It would be good to find a provider that at least guarantees the following:

Reprogram or cancel the tour without cost. Of course, there are limits. The most serious providers allow you to do this up to 48 hours in advance.
Bad weather guarantee. If the weather is not good or the port authority restricts navigation due to bad weather, you have the right to reschedule your activity for another day or to request cancellation and 100% refund. Serious vendors have no problem with this.
Passenger insurance. It is important that both land and sea transport include insurance, so you do not have to worry about an accident on the road or worse, at sea.
Reviews from other visitors. This may be the most important. How have other tourists evaluated your provider? What other travellers say about what you are about to buy will allow you to make the best decision. If most had some problem, you'd better look for another option. If the good comments are more than the bad ones, go ahead! It could be your ideal provider!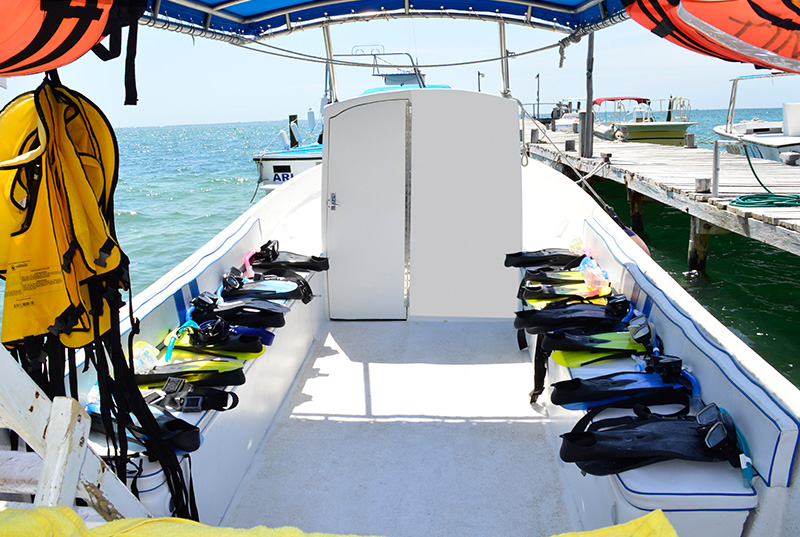 The goal is to make your experience with whale sharks unique, fun, safe and unforgettable. We know that finding the best option can be difficult if it is your first time in Cancun or the Riviera Maya. We have done the work for you and managed to find the best whale shark swimming tour in Cancun and Riviera Maya. It complies with everything and the balance quality-price is guaranteed. Check it out! If you like it you could book in advance and take advantage of the promotions you may have.
I await your comments.
See you next time!